The Marathon Conspiracy (Hardcover)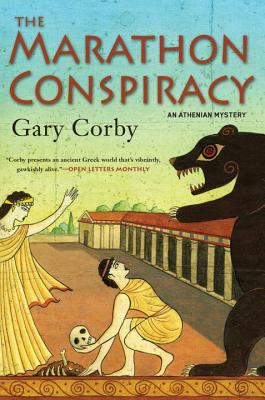 Email or call for price
Special Order - E-mail us directly - We may have a used book!
Staff Reviews
---
One of the first things you need to be aware of in the new Gary Corby novel, The Marathon Conspiracy is that the marathon being referenced is not a race but a place.
Nocolaos and Diotima are back, and Pericles has another job for Nico (even though he still hasn't paid Nico for the very first commission!), and while Nico isn't sure he's interested, he needs the money since he's to be married to Diotima next month. A skeleton has been discovered near a prestigious girls' school, and it seems to belong to the tyrant, Hippias, whom everyone believed died in Persia. Suddenly all kinds of people are taking credit for killing the reviled traitor, and Nicolaos has to figure out who really killed Hippias.
But then a girl from the school is killed, and another goes missing. When it turns out that they are the ones who discovered the skeleton, Nico and Diotima find themselves pressured to resolve both mysteries as soon as possible. With the help of Socrates (who's been kicked out of school for asking too many questions) and the venerable playwright Aeschylus, Nicolaus and Diotima have to work in identifying murderers, locating a missing girl – and perhaps a bear – all while preparing for their upcoming wedding, which may be a bigger challenge than any murder!
One of the things I really like about Gary Corby's novels is his sense of history. While he writes in a modern vernacular, his history is accurate and sometimes quite uncomfortable. The rules of society in ancient Greece are quite different from ours today, and women's roles in the world were quite strictly defined. It could be jarring, but Corby handles the narrative so well that it's easy to understand and keep running with the storyline.
He's also got a great sense of humor. There are parts of The Marathon Conspiracy that are fairly dark, but there are moments of humor that had me snorting. Oh, and Gary? It's going to be a long time before I forgive you for one of your puns – I had that stupid song stuck in my head for hours!
Normally, I'm a fan of reading the notes Mr. Corby provides at the end of the book first so I know what historical references are accurate and which he finessed to suit the story, but in this case, I have to agree with his warning: there are definite spoilers in his notes so do wait until you've finished the book before you read them. But you will want to read the notes; the history is fascinating!
— Fran
Description
---
The rollicking fourth book in the Nicolaos and Diotima mystery series set in Classical Athens.
Nicolaos, Classical Athens's favorite sleuth, and his partner in investigation, the clever priestess Diotima, have taken time off to come home and get married. But hoping to get hitched without a hitch proves overly optimistic: A skull discovered in a cave near the Sanctuary of Artemis, the ancient world's most famous school for girls, is revealed to be the remains of the Hippias, the reviled last tyrant to rule Athens. The Athenians fought the Battle of Marathon to keep this man out of power; he was supposed to have died thirty years ago, in faraway Persia. What are his remains doing outside the city walls? Nico's boss, the great Athenian statesman Pericles, wants answers, and he orders Nico to find them. Worst of all, one of the two Sanctuary students who discovered the skull has been killed, and the other is missing. Can the sleuths solve the interlocked crimes before their wedding?
About the Author
---
is the author of four other Athenian mysteries: "The Pericles Commission," "The Ionia Sanction," "Sacred Games," and "Death Ex Machina." He lives in Sydney, Australia, with his wife and two daughters. He blogs at A Dead Man Fell from the Sky, on all things ancient, Athenian, and mysterious.
Praise For…
---
Praise for The Marathon Conspiracy 

"Corby serves up a bubbly cocktail of clear history, contemporary wit, and heart-stopping action."
—Booklist, Starred Review

"Outstanding . . . Everything works in this installment—the detective business, the action sequences, the plot twists, and the further development of the series lead."
—Publishers Weekly, Starred Review

Praise for Gary Corby 

"Corby has not only made Greek history accessible—he's made it first-rate entertainment."
—Kelli Stanley, award-winning author of City of Dragons
 
"Those who like their historicals with a touch of humor will welcome Australian author Corby's promising debut ... Corby displays a real gift for pacing and plotting."
—Publishers Weekly, Starred Review
 
"Mix one part ancient history, one part clever and contemporary banter, and one part action, and you have a top-notch crime caper ... Highly recommended for those looking for humor with their crime detecting."
—Library Journal