The Final Silence (Hardcover)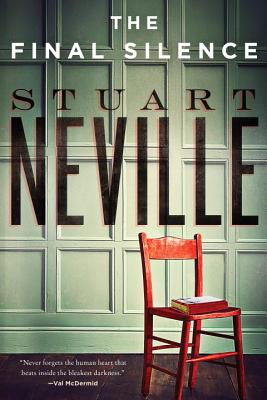 $26.95
Usually Ships in 1-5 Days
Staff Reviews
---
Stuart Neville does noir in a great way. His
latest novel, The Final Silence is, to me, the epitome of the true
heart that drives a bleak noir story. Jack Lennon is damaged, and in
some ways may not recover, but he's still got some fight left in him and
his guilt will drive him on.
You see, Jack is contacted by an old flame
who's found a terrifying scrapbook in her late uncle's house, and Rea
wants Jack to find out if what's pasted in there is real. If it is, it
could mean the end to her father's career, but Rea doesn't care. She
wants justice. But when Jack arrives to look at the book, it's vanished.
He's not sure he believes Rea, and he's got his own problems – a
growing addiction to pain killers and complete denial about his ongoing
PTSD, along with the fact that he's at odds with his daughter's other
side of the family.
But then Rea is murdered, and Jack is the
last person (aside from the killer) to see her alive. And he makes an
excellent suspect. But to clear his name, he's going to have to stay
clear of the police force from which he's been suspended, and he's going
to have to face his own demons.
I've loved Stuart Neville's writing from the
very beginning, and The Final Silence is just as breathtakingly gritty
and powerfully dark as anything he's ever written. It's certainly not a
book for the squeamish, and if you're looking for a warm and cuddly
protagonist, you'll need to look elsewhere. But if you love a
hard-hitting story about doing the right thing, about families and their
secrets, about figuring out that some battles aren't obvious and are
often the hardest to win, then The Final Silence – or anything by Stuart
Neville – should be right up your alley.
— Fran
December 2014 Indie Next List
---
"Rea Carlisle inherited a house from an uncle she never knew. In it was a locked room, and when she forced open the door what she found terrified her -- a book detailing the murders of a variety of people over a period of many years. After attempts to investigate were thwarted by her father, Rea reached out to the only policeman she knew, disgraced inspector Jack Lennon. When Lennon arrived, he found Rea dead, and he quickly became the number one suspect in her murder. What follows is a harrowing investigation that pulls down Rea's father, a local politician with ties to the IRA -- ties that lead directly to a serial killer who will keep killing until he gets what he wants."
— Janice Hunsche, Kaleidosaurus Books, Fishers, IN
Description
---
In Belfast, Northern Ireland, memories of the city's troubled history haunt every street corner, but for one tortured soul, the incredible violence in his past is also his most cherished legacy. Rea Carlisle, daughter of influential Northern Irish politician Graham Carlisle, has inherited a house from an uncle she never knew. It doesn't take her long to clear out the dead man's possessions, but when Rea forces open a locked room, she finds a leather-bound book. Tucked in its pages are fingernails and locks of hair: a catalog of victims. Horrified, Rea wants to go straight to the police, but her father intervenes--he's worked too hard to have his brother's twisted legacy ruin his promising political career. Thwarted by her father, Rea turns to the only person she can think of: disgraced police inspector Jack Lennon. Meanwhile, Lennon finds himself the lead suspect in a murder investigation led by one of the force's toughest cops, DCI Serena Flanagan. His implication in the murder, coupled with the story Rea has brought to him, leaves Lennon more than slightly suspicious that the two are part of a grisly conspiracy.
About the Author
---
Stuart Neville is the author of four previous books: Ratlines, shortlisted for the CWA Ian Fleming Steel Dagger for Best Thriller; Collusion, a finalist for the Los Angeles Times Book Prize; Stolen Souls, and The Ghosts of Belfast, winner of the Los Angeles Times Book Prize and a finalist for the Macavity Award, the Barry Award, and the Anthony Award for Best First Novel. He lives in Belfast.
Praise For…
---
Praise for Stuart Neville

"Neville's novel is a coldly lucid assessment of the fragility of the Irish peace . . . a rare example of legitimate noir fiction."
—The New York Times Book Review

"Stuart Neville belongs to a younger generation of writers for whom the region's darkest years are history—but that history endures."
—Washington Post

"Neville's tightly wound, emotionally resonant account of an ex-IRA hit man's struggle to conquer his past, displays an acute understanding of the true state of Northern Ireland."
—Los Angeles Times