Alpha (Pre-Recorded Audio Player)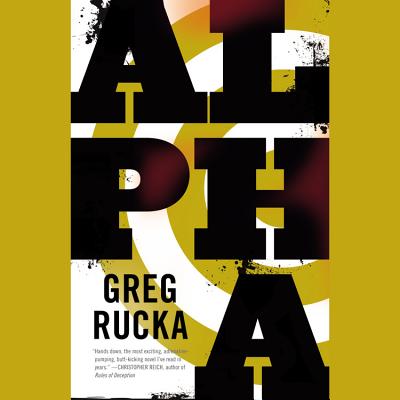 Email or call for price
Special Order - E-mail us directly - We may have a used book!
Staff Reviews
---
Greg Rucka is an evil, evil man. Just so you know.
I read Alpha and now I can't wait for the next one! I want it now!
Master Sergeant Jad Bell is sent undercover to head security and the popular theme park, Wilsonville. Rumors of a terrorist event have reached certain ears, and their solution is to place Bell and some of his team at the park to keep an eye on things.
Then his ex-wife and deaf daughter, along with her class, come to the park, and Jad is positive that they've chosen the wrong weekend. And he's right. Now, is he compromised?
Action is a Rucka watchword, and he delivers in spades! Alternating between Bell's point of view and the terrorist, "Gabriel Fuller", the pace is relentless, and things are set up so that there are some big and potentially devastating complications lurking in future books.
You really have to pay attention to this book; it's fast, it's intelligent and it's decidedly complex. There's a fair amount of military jargon but Greg makes sure you can understand even without a military background. I love the fact that he makes me think!
While there's a definite resolution to Alpha, not all the loose ends are tied up, and as I said, I cannot wait until the next one (which Greg said will be called Beta – you get the theme) comes out because someone has seriously ticked off Jad Bell, and that's not a good thing!
— Fran