Three Seconds (Mass Market Paperbound)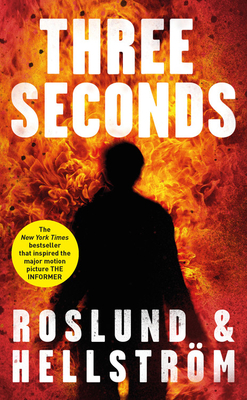 Email or call for price
Special Order - E-mail us directly - We may have a used book!
Description
---
ONE MURDER. Piet Hoffmann is the Swedish police force's best undercover operative. Not even his family know of his double identity. Yet when a drug deal with the Polish mafia goes fatally wrong, his secret life begins to crumble around him. TWO MEN. Detective Inspector Ewert Grens is charged with investigating the drug-related killing. Unaware of Hoffmann's true identity, he believes himself to be on the trail of a dangerous psychopath. THREE SECONDS. Hoffmann must desperately maintain his cover; else he is a dead man walking. But, in the doggedly-perceptive Ewert Grens, he has just made the most relentless of enemies.
About the Author
---
Roslund and Hellstrom are Sweden's most acclaimed fiction duo. Award-winning journalist Anders Roslund is the founder and former head of Kulturnyheterna (Culture News) on Swedish television, and for many years worked as a news reporter - specializing in criminal and social issues - and as an Editor-in-chief at Rapport and Aktuellt, Sweden's two foremost news programmes. Borge Hellstrom (1957-2017) was an ex-convict who brought a unique insight into the brutal reality of criminal life. He worked with the rehabilitation of young offenders and drug addicts, and was one of the founders of the crime prevention organization KRIS (Criminals Return Into Society). Their DCI Ewert Grens novels have won the Glass Key Award, the Best Swedish Crime Novel award, the CWA International Dagger, appeared on the New York Times bestseller list, been translated into 31 different languages.
Praise For…
---
"Explosive . . . Three Seconds does Stieg Larsson one better." ––Carol Memmott, USA Today
 
"It's like Traffic on the Swedish-Polish border, but everything from the weather to the criminals' hearts is a little colder." --People magazine
 
 "A nail biter of a book." ––Janet Maslin, The New York Times
 
 "[A] sprawling and often gripping thriller. . . . The gritty details of drug dealing, of prison life and of the relations between cops and informants are all rendered with convincing authority in Three Seconds." ­­­­­­­––Tom Nolan, Wall Street Journal
 
"Thrill-a-minute cat and mouse game . . . a grimly amoral tale." ––Marilyn Stasio, The New York Times Book Review
 
"Twisty plot makes for propulsive reading." ––Entertainment Weekly  
 
"The action quickly draws you in and continues to grip you to the final chapters of the novel. The authors have something to say, and Three Seconds proves to be an excellent way of doing it." ­­––Summer Moore, AP